Testimonials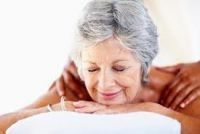 I believe nobody would describe me better than the people I've helped. Here are some of the testimonials.
"Elena is the most talented, educated and devoted massage therapist I have ever gone to. I have had massages for the past
...
50 years. When your mom is a renowned massage therapist, you start at an early age! Elena has surpassed every type of massage I have ever had. Thank you Elena for being in Klamath." Shannon
"Elena is an amazing massage therapist. She loves what she does and it shows in her work. She cares about her clients and tries to make each massage the best it can be. Her extensive knowledge of the human anatomy allows her to really zero in on specific problem areas that other massage therapists might miss. You can't go wrong scheduling a session with Elena!" Ray
"I love Russian massage. It is so much more therapeutic than anything I have ever experienced. Elena truly cares about he
r patients and takes great care to do muscle movements that hit strategic points. Her hands have worked miracles for me."
Linda